36 Hours in Naples, FL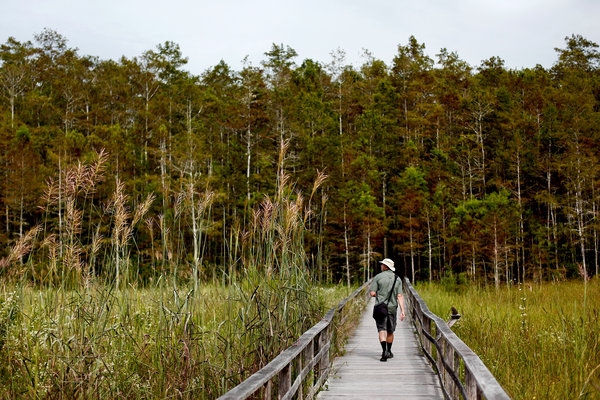 Since the 1880s, savvy marketers have been luring visitors to Naples, Fla., with the promise that this coastal town had the same healing powers as its Italian namesake. A rumor also circulated that the emerald green Gulf water was a notch above the Mediterranean. That's still up for debate, but what is not is that Naples is having its moment. The city is distinctly orderly, with landscaping reminiscent of Japanese gardens and "Truman Show" -level cleanliness on the streets. Naples is often overshadowed by its splashier cousin to the East (that would be Miami). But it has a vibrant downtown flush with high-end accouterments — a luxury pet boutique, a fancy popcorn store, top-notch ethnic and seafood restaurants, art galleries and a relaxed, good-time feeling (most evident when sampling the night life) — along with natural beauty that ranges from lush wetlands to white-sand beaches. It's no wonder that everyone, including Europeans and young professionals, is flocking to this sliver of Florida's gilded coast. Naples's days as a sleepy backwater and humdrum retirement community are over.
Friday
Sunset Cruise | 5:30 p.m.
Naples is, first and foremost, about the water — that calm expanse of the Gulf of Mexico, with waterways snaking into downtown via Naples Bay. While there are a few options for sunset cruises, Sweet Liberty is a 53-foot catamaran that feels intimate with a 40-person maximum ($29.50; $20 for children 12 and under). Departing from the centrally located marina, the two-hour cruise starts coasting through the canals of the upscale Port Royal neighborhood while the captain gives a guided real-estate tour, pointing out houses with multimillion-dollar price tags. Once the boat makes it into the open sea, keep your eyes peeled for dolphins. Reservations are strongly recommended; bring your own alcohol.
Persian Perfection | 8 p.m.
Good ethnic food doesn't usually come to mind when one thinks of a city as ethnically homogeneous as Naples, but bha! bha! Persian Bistro (the name means yum yum in Farsi) is a culinary offering downtown that could easily compete in Los Angeles or New York. Tables on the patio are quieter than those inside. Start with a saffron lemon grass martini. For appetizers, try the pistachio lamb meatballs, mango garlic shrimp and eggplant and artichoke. The ginger, carrot and tamarind lamb, Persian-style seafood paella and spicy tabrizi apricot chicken are all outstanding entrees. Save room for baklava and the apricot ice cream. Dinner for two with drinks comes to about $125. Note the intricate Persian lacquer boxes and miniature paintings adorning the restrooms.
HobNob | 10 p.m.
Old Naples might grab its after-dinner libations at Campiello on Third Street South; new Naples goes to HobNob, which opened to much fanfare late last year. Any hipster would feel at home with drinks made with organic cucumber vodka, large slab-wood tables and young men in bow ties. The ­warehouse-chic restaurant has a large front bar, where on a Friday night the lively crowd seemed to range in age from 20 to 60-somethings. Try the Tarocco ($12; Solerno, orange juice and prosecco) or the Nobtini ($14; vodka, citrus vodka, lime, simple and ginger). Don't expect to drink the night away here, though. The bar closes at midnight — which is on the late side for early-bird Naples.
Taking a closer look at the environment at the Audubon Society Corkscrew Swamp Sanctuary. Scott McIntyre for The New York Times
Saturday
The Wetlands | 9 a.m.
Leave the glamour behind and head toward swamp country, about 40 minutes from downtown. But first stop at Sweet Caroline's, which, like many culinary highlights in Naples, can be found in a strip mall — this one on the way to the Audubon Society Corkscrew Swamp Sanctuary. Egg and cheese on a croissant, coffee and a few of the house-made muffins will cost around $25 for two. At Corkscrew you can rent a pair of binoculars for $3 (admission, $12). Simply follow the two-and-a-quarter-mile boardwalk loop and pass through five ecological habitats. The wetlands filter toxins and protect against the damage caused by weather extremes. Closer viewing of wildlife is available through the telescopes positioned by the sanctuary staff. On the day we were there, one zeroed in on an adult alligator.
Fish and Chips | Noon
Another gastronomic gem in a strip mall is Grouper & Chips. Don't let the straightforward and unpretentious mood fool you; this place takes grouper very seriously. Order yours fried, sautéed, blackened or broiled. The grouper sandwich ($13.95; served with fries and coleslaw) is everything grouper should be: firm and somewhat sweet. Ask for it spicy. This tiny restaurant with pastel pink walls can fill up quickly.
Trains, Big and Small | 1 p.m.
Beat the heat and the crowds at the small but well-stocked, family-friendly (and free) Naples Depot Museum. Trains were central in catapulting Naples from a remote swamp town to the booming destination it is today. Housed in the former depot, the museum is filled with Americana. Walk through refurbished 1920s and '50s vintage train cars, permanently parked outside. Check out the adjacent Naples Lionel Train Museum, and its extensive model train exhibit ($5; $3 for children over 6). An outdoor scale model train circles the museum grounds; the ride is included in the admission.
Waterside Shops | 3 p.m.
In case there is any doubt that Naples is a moneyed town, visit the Waterside Shops, an outdoor shopping oasis in North Naples with waterfalls and soothing music that is home to Gucci, De Beers, Louis Vuitton, Salvatore Ferragamo, Saks Fifth Avenue and other luxury shops. For all your high-end baby and children's apparel, stop in at Little Luxe (one of two locations in Naples) for Baby Giorgio Armani, Marc Jacobs and Hugo Boss. Beach House Naples is a local swimsuit emporium that sells dozens of brands, including the fashion house Badgley Mischka and the more athletic Reebok. Waterside offers free valet parking (seven days a week), wheelchairs and strollers.
Sunset on the Beach | 6 p.m.
Enjoy the sunset over cocktails at the beach at Baleen Restaurant at the LaPlaya Beach and Golf Resort. You can't make a reservation to sit around the fire pits, so get there early to claim a table and settle into the Adirondack chairs. Sip on a prickly-pear margarita ($12) or a Gingerito ($12), a well-conceived riff on a mojito. Pair with appetizers, like sataki ($17) — raw tuna, seaweed salad, avocado mousse and other goodies — that can be quickly seared over a small hibachi. Watching the sunset is a spectator sport in these parts of Florida. Join the appreciative audience as the sun sinks into the Gulf.
Pan-Asian Dinner | 7:30 p.m.
You'll wait even if you have a reservation, but it's worth it to dine at the submarine-themed USS Nemo, with its porthole windows. The miso broiled sea bass with citrus-ginger butter sauce ($32.95) is almost worth a trip to Naples in and of itself. USS Nemo, a Naples institution, pulls off the pan-Asian theme without being overly fussy. Expect to pay around $125, including drinks, for two. Get there early: The restaurant closes at 9:30; 10 p.m. Friday and Saturday.
Sunday
Diner Deluxe | 10 a.m.
At Skillets, a popular Naples breakfast and lunch destination, fresh-squeezed orange or grapefruit juice ($3 for a very ample "small") comes in huge beer mugs. A Skillets stop is a pre- or post-church ritual for many Neapolitans, so there can be a wait on Sunday. Go for the signature dish, a skillet topped with eggs. Try the veggie skillet: layers of avocado, goat cheese, chives and sun-dried tomato ($10). Also worth the calories are the cranberry pecan pancakes (stack of three, $9.50). Breakfast for two, without tip, comes to around $30. Skillets has five locations in the Naples area.
Russian Art | Noon
Gallery on Fifth, despite its name, is no longer downtown but in an upscale shopping center called the Mercato. Here you'll see a wide variety of mostly Russian and Eastern European artists, emblematic of the growing international art scene in Naples. Browse through the airy space and admire their rotation of talented artists, many of whom have few showings in the United States.
Bike and Swim | 1 p.m.
Rent bikes at Extreme Family Fun Spot, where the bikes are well priced ($5 an hour, minimum two hours) and there is free parking. (You can rent the full range of other beach and water sports gear as well.) Take Gulf Shore Boulevard South then Gordon Drive south through Port Royal for a stretch of more than two miles where you'll see eye-popping villalike homes. Head for the sea. Turn on 18th Avenue South for a quieter beach experience, but on your way out, make sure to stop at Naples Pier (12th Avenue South) for the local fishing scene, and to take one last look at the shimmering green Gulf.